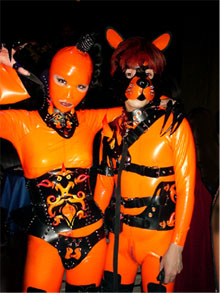 We are "Kariwanz" - Owner of this site.

We create original 'fetish items' made of rubber, leather and so on.
We love joyful event, and delicious food, too.

Wanco in Japanese language means 'doggie'.
Ms. Karin is the keeper of the doggie.
It's just our relationship.

(Heday's comment:
They are very nice, cool and sweet couple. Jealous!)

We can create costumes we want to wear ,
and can create anything that we want to have!


Dog Keeper "Karin"
(Left side)
Doggie "Wanco"
(right side)