put and spread glue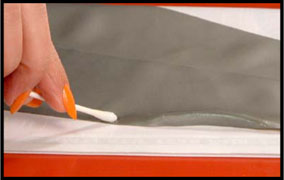 This time, let's spread glue at the place that you have already spread primer. (Make sure each sheet where you want to put together.)
Whenever you use this kind of glue, rubber sheet curls up!!
You'll see this phenomenon especially on 0.3mm(1/80 inch), such a thin sheet.
As long as you are carefule not to put two sheets together,
that's no problem. So, don't lose your composure. Cool it!

One of good way is that fixing the rubber sheet with double-sided@tape on your desk.
Anyway you're going to be soon skillful and gonna only use your fingers!